REDDRESS
design Aamu Song /COMPANY
550 meters of fabric
238 people in audience
20 meters in diameter
3 meters in height
1 singer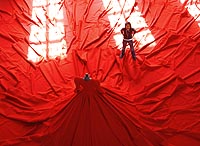 Reddress is part of Designmuseums permanent
collection.In questions about dress and booking info:
Curator: Jukka.savolainen(at)designmuseum.fi

WORK IN PROGRESS:
(pictures in chronological order:
Scroll to bottom to view from beginning)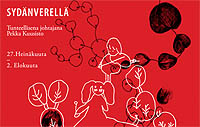 REDDRESS in Tuusulanjärvi,
Sydänverellä -festival in late july.
Concert days: 30.7 & 31.7.2008.
_ _ _ _ _ _ _ _ _ _ _ _ _ _ _

REDDRESS in Designmai,
Berlin in May 2008.
Place: St. Elizabeth Church
Invalidenstrasse 3 Berlin.
Concerts: 21st to 24th of May.
More info and concert times:
www.dmy-berlin.com
TV Berlin Reddress report
video clip from Yosep Kang's concert.


25.05.2008 Packing ready. Time to say goodbye.
Danke schön Sabine, Hendrik, Bernhard,
David, Chris, Malte, Thouska, Isabel.
Kiitos paljon Hannele, Essi, Marjut, Anja,
ja tietysti Sari ja Tuomo.
Kamsahamnida Yosep, Min Ji Song, Soogi,
Mira, Lee, Jang, Roh.
Mange tak Uffe, Lene, Lars og Ranchbrass.
It was a really great week! Danke!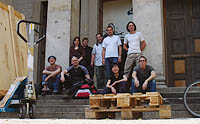 24.05. Packing day.
Reddress will return to home in Helsinki.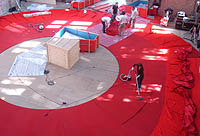 24.05.2008 Good night Reddress.



24.05. Grande finale!
Yosep finishing the concert serie.
Soo great! Kamsahamnida!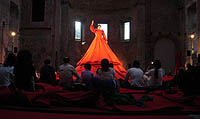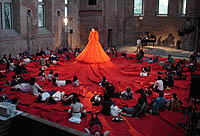 24.05. Storytelling day.
Komapsumnida Soogi!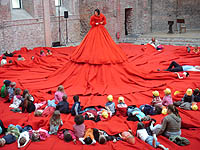 23.05. Finnish tango in Reddress.
Concert by Marjut and Anja. Kiitos, kiitos!
See TV Berlin Reddress report.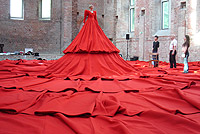 22.05. Storytelling day.
Mrs. Kolbe getting the kids attention.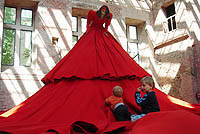 21.05. REDDRESS Berlin premiere concert!
Yosep finishing his amazing singing.
Aamu finishing up with dress story.
Thank you all so much for the wonderful evening!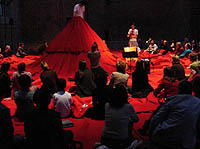 Soundcheck time. Marjut & Anja on Finnish tango.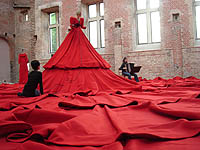 Rehearsal for storytelling show.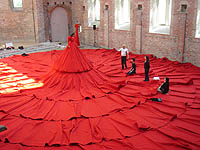 20.05. Rehearsal day.
Tuomo demonstrating how to operate the dress.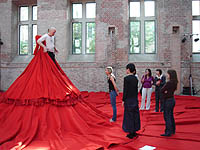 Dress ready and waiting for rehearsals.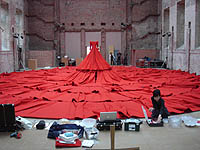 Tuomo testing the function, Aamu watching.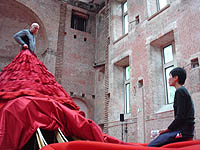 Konemekko (technical dress) in the center.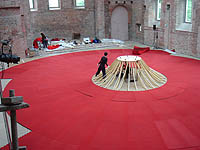 Dress fixing with Sari.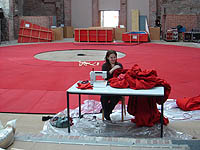 Tatami part ready.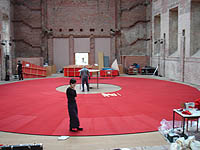 19.05.
Arriving to Berlin and starting the set ut.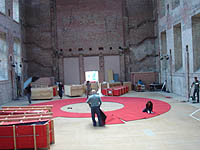 19.05.2008
Elizabeth Church in Mitte, Berlin.


_ _ _ _ _ _ _ _ _ _ _ _ _ _ _ _

27.05.2007
Reddress+Company exhibition closing day.
Thank you so much everyone in Designmuseum,
all singers & musicians and the great audience!
So happy and so sad...


25.05.2007
Last Reddress concert!
Ville Leinonen & T. A. Kaukolampi.
Soo great! Again soon, please...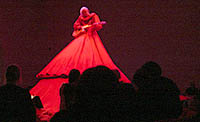 22.05.2007
Reddress concert with M.A. Numminen
& Pedro Hietanen and approx. 200 kids!
Wildest concert we've ever seen!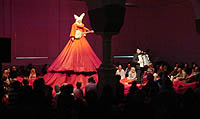 15 & 18.05.2007
Reddress concerts with Astrid Swan!
Mahtava! Special kiitos for Sari.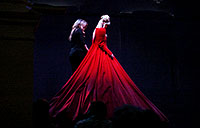 08.05& 11.05.2007
Sansa & Mir-0 in Reddress.
Todella hieno! Kiitos.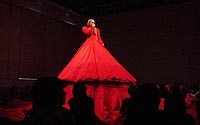 05.& 06.05.2007
Anna-Mari Kähärä & Pekka Kuusisto.
Mahtava mahtava concerts! Kiitos!
When can we do it again? please, please.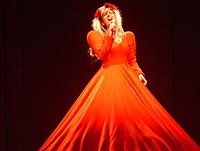 03.05.2007
Opening party!
Reddress fills the whole hall in second floor.
Kiitos all visitors!
Kiitos so much Jukka and Marianne! And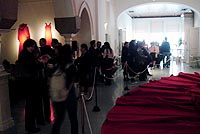 02.05.2007
Anna-Mari Kähärä & Pekka Kuusisto
practicing for saturdays concert.
Mahtava! Can't wait till saturday.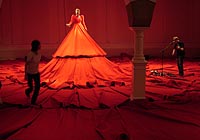 28.04.2007. Dress all in place and
testing the technique.
Kiitos taas paljon Sari ja Tuomo!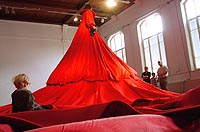 27.04.2007. Surgeon Sari and nurse Aamu
operating Reddress. Some surgery needed
to fit the dress in the space.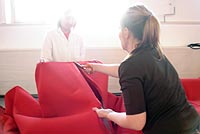 24.04.2007. One dress going up!
Dress moving to Designmuseum.
Exhibition opening in one week... jännittää..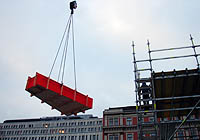 _ _ _ _ _ _ _ _ _ _ _ _ _ _ _

Premier day 14th of august 2005 in
Louisiana Museum of Modern art, Denmark
The show was great! Thanks everyone!!
www.louisiana.dk
>concerts>Reddress concert

Concert time! photo Henrik Stenberg.
(click image to view this picture in bigger size)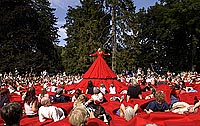 Audience entering the dress.
Ready to start the concert.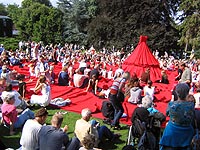 Soundcheck time.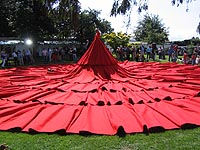 Dress part ready. Sound system still missing.

Under layer finished.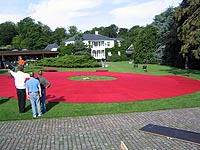 Center part fixed.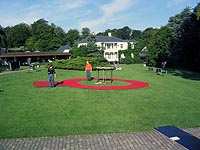 The concert place at the main yard
of the museum.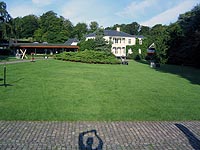 Tuomo still fixing konemekko part.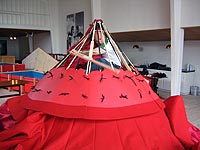 Uskomaton people. The heavyest part of
the dress weights nearly 700 kg!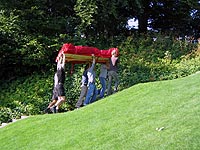 The concert will take place
at the at the top of this hill.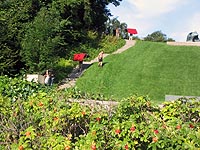 Danish local crew starting.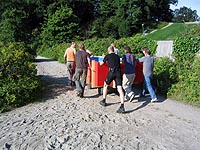 14th august 07 am.
Louisiana Museum boathouse, Denmark.
Beatiful, sunny mprning.
The concert will happen outside!!



___________________________________________

GREAT SHOW! Kiitos!
Finnish road crew is happy to finally see the show.
Kiitos paljon Sari, Essu, Tuomo, Anna, Janne ja Rami.
See you at Louisiana on august!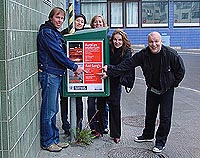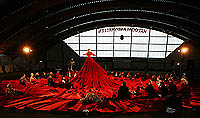 First people arriving...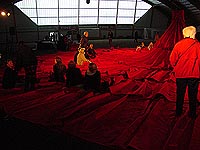 Dress part is ready and waiting for the evening.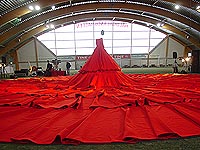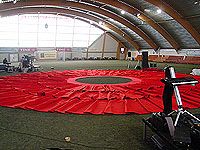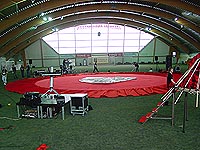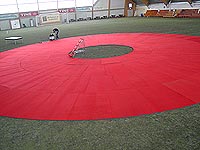 We get a huge indoor football arena for the show.



New day (25th). Rainy morning.
Plan B. The show moves indoors.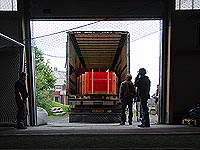 After many discussion the first show is cancelled.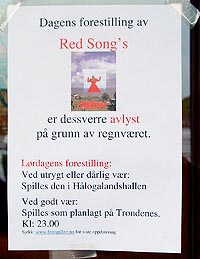 Not again! Raining on the show day.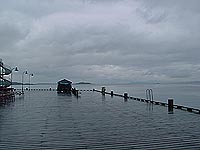 HARSTAD, NORWAY
24th and 25th of june 2005.
Reddress visits Harstad Festpillene, Norway
to have a (pre)premier show with the name 'Red Song's'
Aamu, Anna and Tuomo arriving to the city.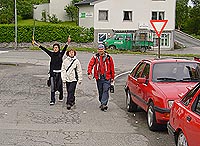 _ _ _ _ _ _ _ _ _ _ _ _ _ _ _ _ _ _ _ _ _ _ _ _

23.06.2004. Can not help the weather.
New show in Louisiana on summer 2005. Welcome.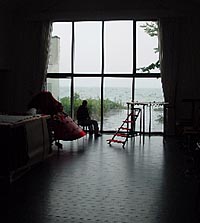 20.06.2004. After rehersal with
Danish bodary, Team Mekko and Larsu.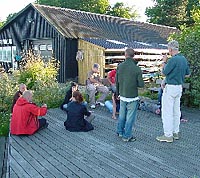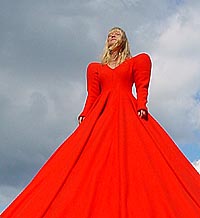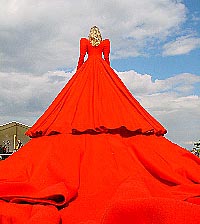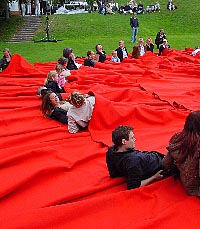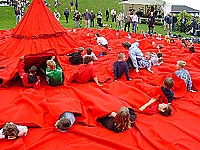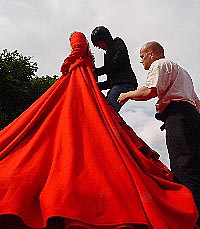 20.06.2004. Rehersal day on location.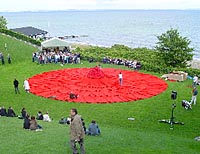 20.06.2004. Still hard work going on.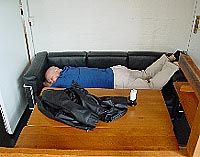 20.06.2004. The last Mekkola,
Boathouse, Louisiana.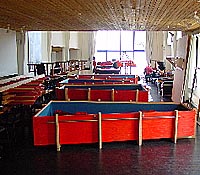 19.06.2004. Arriving to Kopenhagen.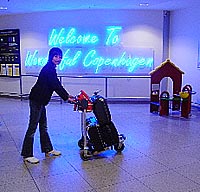 15.06.2004. Talkoo beer for makers.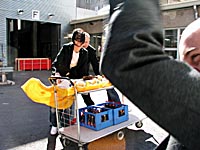 15.06.2004. Finally dress is on the way to Denmark!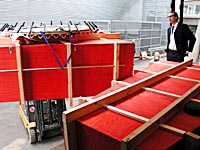 07.06.2004. Dress packed and ready to go.



03.06.2004. At Lume before the transportation.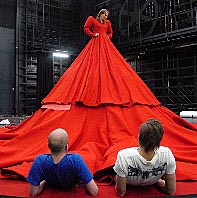 02.06.2004. Aamu still busy with something.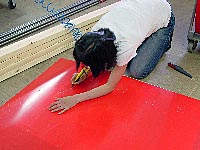 02.06.2004. Boxes are finally finished.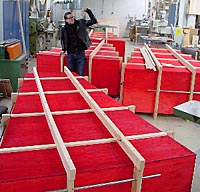 27.05.2004. Laatikkomies Rami Lehtimaki
ja rasiapojat SikaHalkola & Juuso.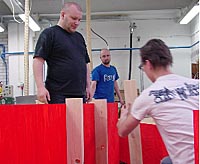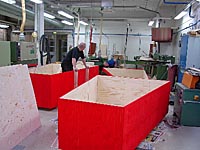 25.05.2004. With Antti at UIAH woodworkshop.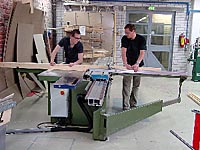 24.05.2004. Waiting to get timber
for delivery boxes.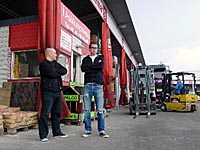 23.05.2004. Testing ready at Cable Factory.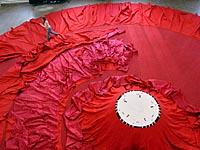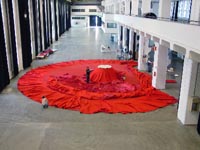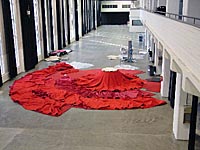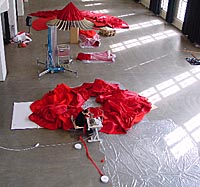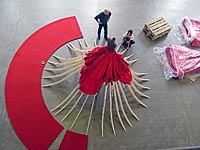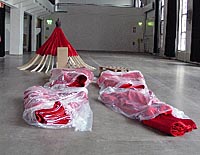 19.05.2004. Moving to Cable Factory.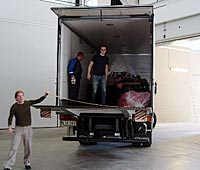 13.05.2004. Bigdress. Last (4th) layer ready!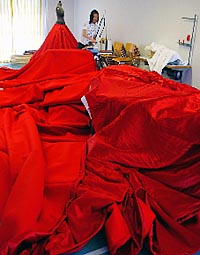 05.2004. Bigdress making. First layer about to finish.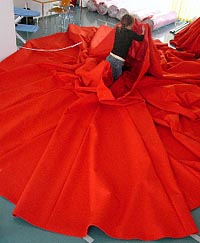 05.04. Fabric laminated and ready for cutting.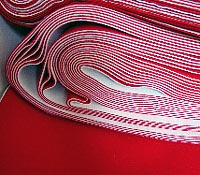 05.04. IMore thread needed. 5 km used.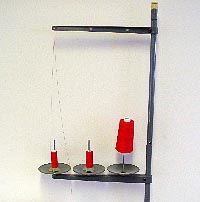 05.04. Inner layer making.


04.2004 Finishing the dress part. Aamu and Sari.
Big konemekko shown on background.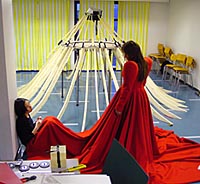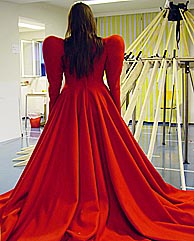 04.04 Fashion victims Joppe & Pyllyjoppe.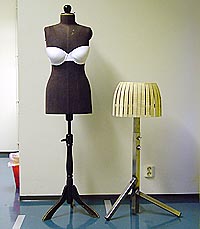 04.2004 Lena Willemark (singer) fitting the dress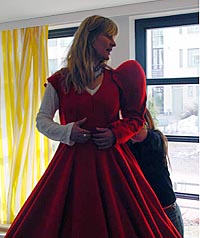 Sari Manner (dressmaker)


04.04 Testing Konemekko (Tuomo Järvimäki)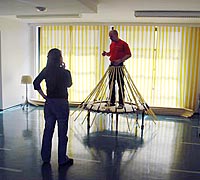 03.04. Prepairing fabric for lamination.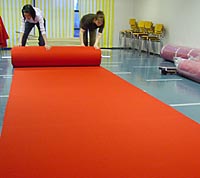 03.04. Making the singers dress.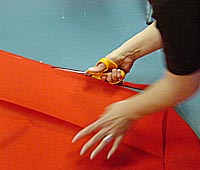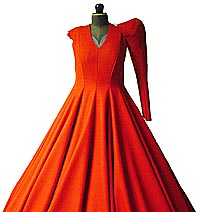 02.04. Konemekko making at National Opera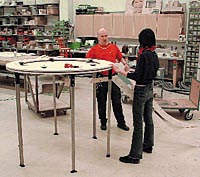 02.04. Choosing sewing machines at Orimattila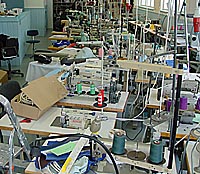 01.04. Fabric arrives to Finland